Crown SAFER
Crown® Safer is the safe alternative to traditional solvents, ideal for professional and home applications. Designed to provide a safer solution for both the user and the environment, Crown Safer products continue the Crown tradition of high quality and proven performance. The Crown Safer line offers nine formulas in an array of sizes for thinning, cleaning, or paint removal projects.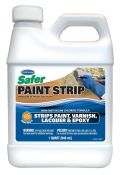 Crown® Safer Paint Strip
Non-flammable, non-toxic, and biodegradable, the all-purpose Crown® Safer Paint Strip strips paint, varnish, lacquer and epoxy from wood, metal, masonry and marine surfaces. Unlike traditional paint strippers, this semi-paste formula contains no methylene chloride, making it low odor and safe for indoor use. Covers up to 25 square feet and clings to vertical surfaces.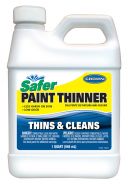 Crown® Safer Paint Thinner
Crown® Safer Paint Thinner is the non-flammable, low odor alternative to traditional paint thinners and mineral spirits. The next generation in paint thinning technology, this formula is non-flammable, low VOC, high in natural resource content, and contains no Hazardous Air Pollutants. Ideal for your paint prep, thinning, or cleaning projects. Shake well before using.
Available in gallon and quart sizes.